Hi-Flex ZH power cores
Flexible, LSZH power cores intended for automotive applications.
Designed for use with the Hi-Flex ZH power cable range and also used in conjunction with Roctech tape, Hi-Flex ZH uses HFI 121 XL to provide the same levels of flexibility and high temperature performance of the original TPS 125 XL product, with the additional benefits of being Low Smoke, Zero Halogen (LSZH) and is available in a full colour range. It is primarily used in civilian hybrid electric-drive applications.
Manufactured by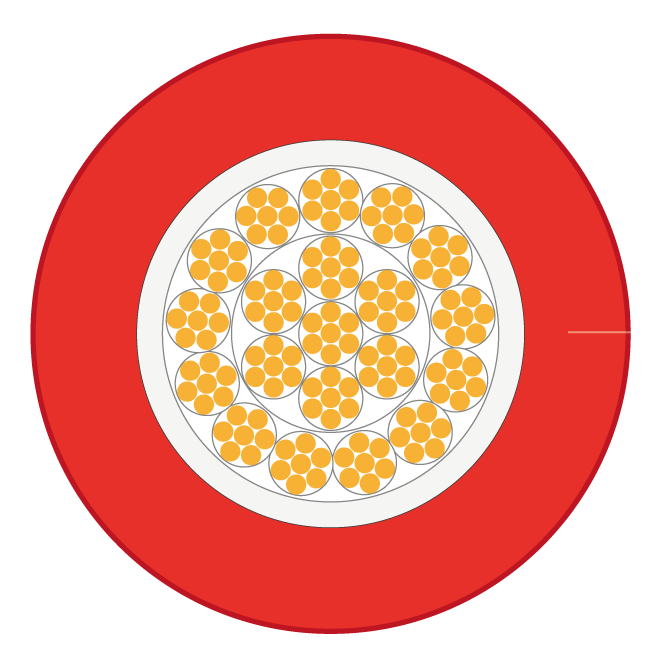 | Cable name | Section | Jacket | Diam. est. (mm) | Item code | |
| --- | --- | --- | --- | --- | --- |
| | 1,0 mmq. | Roctech & HFI 121 XL | 2,5 Min d. 2,35 Max d. 2,7 | IM-909cc0100 | |
| | 1,5 mmq. | Roctech & HFI 121 XL | 2,85 Min d. 2,7 Max d. 3 | IM-909cc0150 | |
| | 2,5 mmq. | Roctech & HFI 121 XL | 3,45 Min d. 3,3 Max d. 3,6 | IM-909cc0250 | |
| | 4 mmq. | Roctech & HFI 121 XL | 4,25 Min d. 4,1 Max d. 4,4 | IM-909cc0400 | |
| | 6 mmq. | Roctech & HFI 121 XL | 4,85 Min d. 4,6 Max d. 5 | IM-909cc0600 | |
| | 10 mmq. | Roctech & HFI 121 XL | 6 Min d. 5,8 Max d. 6,5 | IM-909cc1000 | |
| | 16 mmq. | Roctech & HFI 121 XL | 7,7 Min d. 7,45 Max d. 8,3 | IM-909cc1600 | |
| | 25 mmq. | Roctech & HFI 121 XL | 9,5 Min d. 9,2 Max d. 10,4 | IM-909cc2500 | |
| | 35 mmq. | Roctech & HFI 121 XL | 11,15 Min d. 10,7 Max d. 11,6 | IM-909cc3500 | |
| | 50 mmq. | Roctech & HFI 121 XL | 12,95 Min d. 12,45 Max d. 13,5 | IM-909cc5000 | |
| | 70 mmq. | Roctech & HFI 121 XL | 14,8 Min d. 14,3 Max d. 15,5 | IM-909cc7000 | |
| | 95 mmq. | Roctech & HFI 121 XL | 17,05 Min d. 16,5 Max d. 18 | IM-909cc9500 | |
| | 120 mmq. | Roctech & HFI 121 XL | 19,3 Min d. 18,9 Max d. 19,7 | IM-909cc9120 | |
| | 150 mmq. | Roctech & HFI 121 XL | 20,8 Min d. 20,2 Max d. 21,4 | IM-909cc9150 | |
| | 185 mmq. | Roctech & HFI 121 XL | 23,3 Min d. 22,3 Max d. 24,3 | IM-909cc9185 | |
| | 240 mmq. | Roctech & HFI 121 XL | 27,75 Min d. 26,75 Max d. 28,75 | IM-909cc9240 | |
| | 300 mmq. | Roctech & HFI 121 XL | 30,7 Min d. 29,45 Max d. 31,95 | IM-909cc9300 | |
| | 400 mmq. | Roctech & HFI 121 XL | 36,3 Min d. 35,05 Max d. 37,55 | IM-909cc9400 | |