LandguardVG H-GM27-B multicores
ETFE insulated, TPS 125 XL sheathed, approved to VG 95218-27 Type B Intended for military automotive applications.
Developed to meet the requirements of VG 95218, Habia Cable's LandguardVG range of single and multicore cables holds VDE approval and provides our customers with a range of cables suitable for the high temperatures, vibration, oils and fuels associated with fighting vehicles. Materials are also suitable for Non-Biological Contaminent (NBC) wash-down proceedures.
Manufactured by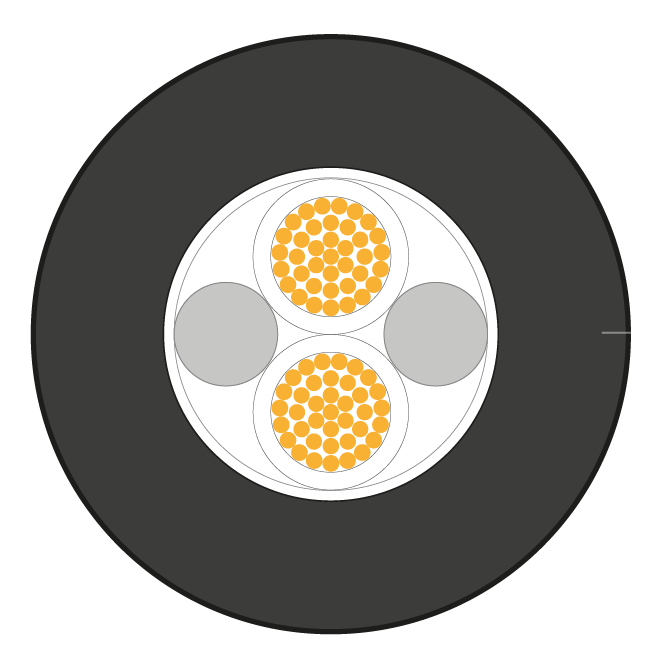 | Cable name | Section | Jacket | Diam. est. (mm) | Item code | |
| --- | --- | --- | --- | --- | --- |
| | 2 x 0,50 | ETFE | 4,7 | IM-305-52702-210 | |
| | 2 x 1,0 | ETFE | 7,3 | IM-305-52702-240 | |
| | 2 x 2,5 | ETFE | 8 | IM-305-52702-310 | |
| | 1 x 0,60 2s x 0,60 | ETFE | 6,6 | IM-305-52702-220 | |
| | 3 x 1,0 | ETFE | 6 | IM-305-52702-270 | |
| | 3 x 1,0 | ETFE | 6 | IM-305-52702-360 | |
| | 3 x 1,2 | ETFE | 6,6 | IM-305-52702-180 | |
| | 3 x 1,5 | ETFE | 6,6 | IM-305-52702-010 | |
| | 3 x 1,5 | ETFE | 7 | IM-305-52702-280 | |
| | 7 x 0,50 | ETFE | 6,2 | IM-305-52702-120 | |
| | 7 x 0,60 | ETFE | 6,7 | IM-305-52702-080 | |
| | 7 x 1,5 | ETFE | 8,5 | IM-305-52702-020 | |
| | 7 x 3 | ETFE | 11,1 | IM-305-52702-170 | |
| | 6 x 0,25 2s x 0,25 | ETFE | 6,9 | IM-305-52702-250 | |
| | 4 x 2,5 5 x 1.5 | ETFE | 12,3 | IM-305-52702-330 | |
| | 10 x 1,5 | ETFE | 10,6 | IM-305-52702-030 | |
| | 12 x 0,40 | ETFE | 7,4 | IM-305-52702-160 | |
| | 12 x 1,5 | ETFE | 11,5 | IM-305-52702-150 | |
| | 4s x 0,40 4 x 0.60 4 x 1.2 | ETFE | 10,5 | IM-305-52702-070 | |
| | 19 x 10 | ETFE | 11,9 | IM-305-52702-040 | |
| | 19 x 1,5 | ETFE | 13,6 | IM-305-52702-340 | |
| | 13s x 0,40 3 x 0.60 3 x 3 x 0.60 | ETFE | 14 | IM-305-52702-090 | |